Product Details
Product features:
1.Small size and easy to carry, more efficient.
2.Lower noise. 
3.A horde of rivets function, pull a good effect that it does not waste a rivet. 
4.Can complete drilling, pulling rivets and screwing, as long as you have a drill. 
5.Contrast with the traditional riveter: 
A)Hand riveters is laborious and inefficient. 
b)Traditional rivet gun is heavy, not portable, noisy and drop rivets. The internal structure is easily damaged.
Usage: 
1.Hold the riveter body, drill reversed. 
2.When you hear "da da da", the screws can be inserted into the nozzle. 
Using the wrench to install the right size nozzle. Using the wrong size will get stuck.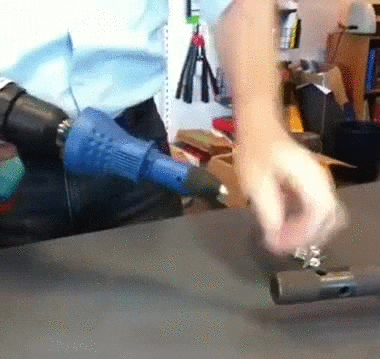 Specification
Type: Rivet Gun Adaptor
Material: Aluminum Alloy Plastics
Color: Blue
Riveting ToolSize:16*5.82*5.82cm/6.29*2.29*2.29 ''(L*W*H)
Big Wrench: 13.5*4.5*0.26cm/5.31*1.77*0.1 ''(L*W*H)
Small Wrench: 10.5*2.5*0.26cm/4.13*0.98*0.1 ''(L*W*H)
Net Weight:390g/13.73oz
Package:
1x Riveting Tool
2x Wrench
3 x Nuts
1*White Box
Cannot ship to PO boxes.